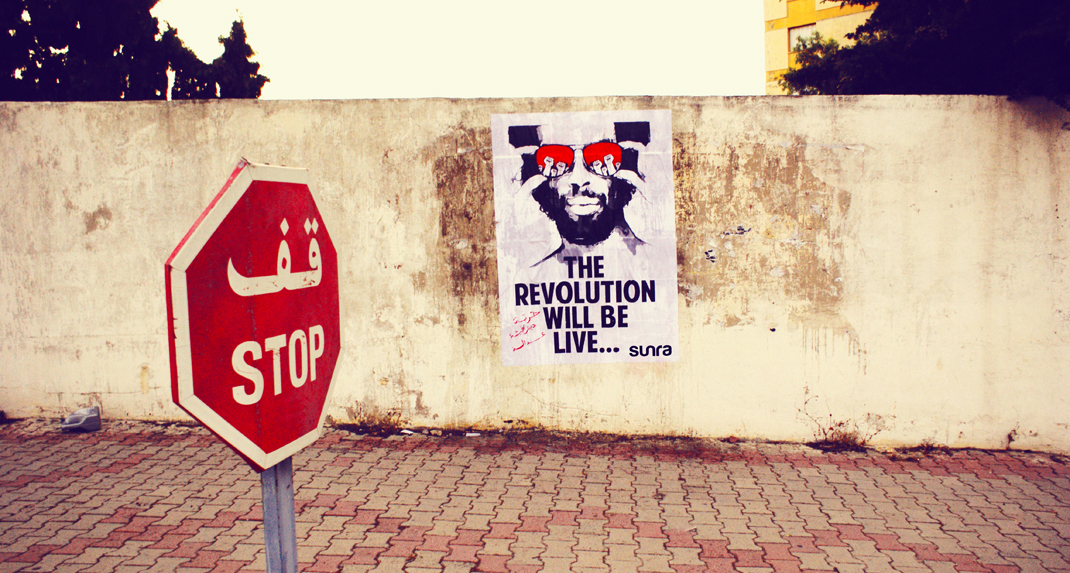 "My desire to cover the city walls was born with the emergence of the Arab Spring in 2011.
I found in this possible rebirth the beginning of my yearning to express myself artistically.
The symbolism of the heart, universal, naive, and poetic, which one finds throughout my visuals, contrasts with a world rich in complexities in which we live. My aim is to create an art which is positive, humanistic, and of wide public utility.
My creations challenge viewers and, because of their human size, create an intimacy with them.
The use of the stencil technique with a minimalist color palette, usually black and white, allows me to express a story that juxtaposes itself with the bright red of the heart, like a Japanese print.
I like to be inspired by artists such as BANKSY, pioneer in the world of Street-art, BASQUIAT and his colorful world, naive and so expressive, or PICASSO and the modernism of his lines. I equally give music its due importance, and I like to find meaning in Hip Hop, Soul, Jazz, Oum Kalthoum, or in the poetry of Khalil GIBRAN."
"L'envie de couvrir les murs des villes est née avec l'émergence des printemps arabes en 2011.
J'ai trouvé dans cette possible renaissance le point de départ à l'envie de m'exprimer artistiquement.
La symbolique du cœur, universelle, naïve, poétique, que l'on retrouve au gré de mes visuels, contraste avec un monde riche en complexités dans lequel nous vivons. Mon idée est de créer un art positif, humaniste et de large utilité publique.
Mes créations interpellent le spectateur et, de part leur taille humaine, créent une proximité avec celui-ci.
L'utilisation du pochoir avec une palette de couleurs minimalistes, usuellement le noir et le blanc, me permettent d'exprimer une histoire qui se juxtapose au rouge vif du cœur, telle une estampe japonaise.
J'aime m'inspirer d'artistes tels que BANKSY, pionnier dans le monde du Street-art, BASQUIAT et son monde coloré, naïf et très expressif ou encore PICASSO et le modernisme de son trait. J'accorde à la musique également toute son importance et j'aime trouver essence dans le Hip Hop, la Soul, le Jazz, Oum Kalthoum ou la poésie avec Khalil GIBRAN."